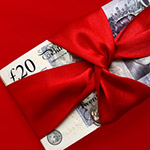 GFI Enterprises ran a competition in our November newsletter asking our clients and vendors to answer one simple question to win £100 for their chosen charity….And the response was amazing, showing the generosity of our clients around the globe. Of course, there can only be one winner and the chosen charity was Habitat for Humanity, Trinidad & Tobago: A truly amazing organisation that makes a huge difference to people around the world every single day.
Following the success of November's competition, we have decided to help our clients and vendors to give a little something back to their favourite community charity again. As before, the winner will be drawn at random and GFI Enterprises will donate £100 to the winners nominated charity.
Question: GFI Enterprises works with their clients to reduce their Total Cost of Acquisition (TCA) with direct cost savings, added value and intangible benefits. Can you name 3 of the acquisition costs that GFI Enterprises can reduce - or remove completely - on every order that you place?
To enter: email craig@gfienterprises.co.uk with your answer together with:
YOUR NAME
YOUR COMPANY ORGANISATION
YOUR CHOSEN CHARITY
Note: we will not mention or print your name or organisation name unless specifically requested.
Terms and conditions:
This is a free entry prize draw competition 
Only registered charities can be nominated as recipients of the prize
Prize money paid into named account of charity by telegraphic transfer
One entry per person
All entries must be submitted by noon on 31/5/2015
Prize quoted is in pound sterling GBP
Answers will be chosen at random
Only one winner per month