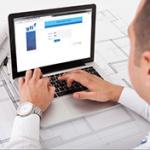 As part of GFI's ongoing commitment to maximise the 'added value' aspect of its services, the Company has invested in a customer-accessible Order Tracking System.
The new system will enable customers see their orders – real-time – on line, 24/7, by simply logging in via the Company's Client Order Tracking portal.
Since developing its bespoke software systems in 2013, the GFI Enterprises operations team have provided, upon request, 'Open Order' and 'Goods in Transit' reports to customers globally, so that orders can be tracked from placement through to delivery at site. The new system will provide customers with immediate, real-time data – anywhere, any-time.
Once orders have been dispatched, clients will also be able to track shipments, goods in transit and estimated delivery dates; information that can be critical in the run up to major projects, outages or shutdowns.
Managing Director, Alan Cardno commented, "We are delighted that the initial feedback on the system is extremely positive; customers are already seeing the benefits of being able to access vital information, 24/7, from any location globally.
We continually look at additional service benefits to our customers and incorporate them into our way of working – this is what defines us a Global Centre of Excellence in the supply of electrical & mechanical equipment, spares & materials".
Detailed data at your fingertips
The Company's website features a Customer Area which also offers technical resources that clients can access and download.
If you have not received your username and password yet and would like to receive Log-In details for accessing the order tracking portal, please contact Craig Jennings.